Anasazi (Rim Blown) Flute

To honor the Anasazi flute, I have recreated one of the four flutes found in a cave in northeastern New Mexico.
The lowest note (fundamental or root note) is G#3.


Inspired by the original Native American Flute.
Finest Quality, Hand Made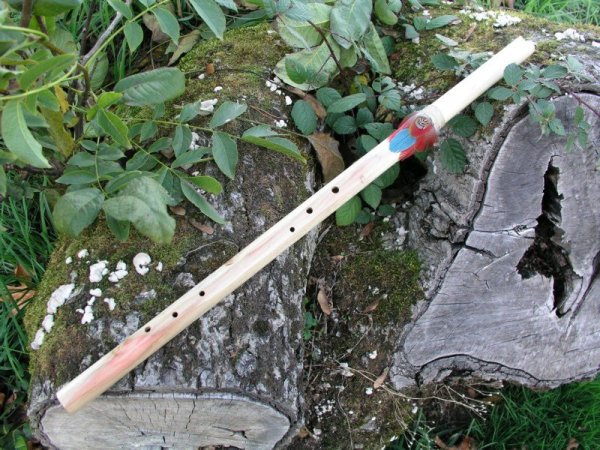 The Anasazi flute is thought to be the earliest Native American inspired Flute ever discovered and was created from box elder. The Anasazi style flute shown in the above photo was created by Vance Pennington, of Waking Spirit Flutes, using indigenous box elder.



The Anasazi people (more correctly known as Ancient Poeblans) decorated their flutes with local bird feathers and skin that were bound onto the flute with twine made from the Yucca plant. Considered to be a significantly religious embellishment the above flute shows a decoration created from colorful feathers and hemp twine and is not intended to represent the original.

This photo clearly shows the beautiful coloring and grain pattern of Box elder. (Grain pattern and color will vary from flute to flute.)

Important: The offsetting of the fingering holes allows for easier playing of this style of instrument and have been designed for RIGHT handed players using the right hand to cover the lower fingering holes. Please select LEFT HANDED in the drop-down menu below if you prefer your flute to be created for left handed use.

This instrument is also available with the beaded flute wrap as shown as a more durable alternative to the feather adornment shown above. Please contact us at

waking-spirit@waking-spirit.com

for further information.
Click on images for larger view.
Price: $400.00
Contact us for shipping and insurance costs.
The instrument of the Ancient Poeblans - The Anasazi flute.

Nothing was known of the Anasazi flute until Earl H. Morris (Carnegie Institution of Washington D.C.) led an expedition of archeologists to the Prayer Rock district of Northeastern Arizona where, during excavations in a small cave, they stumbled upon some wooden flutes that are believed to have been created between 620 and 670 A.D. These flutes were created by the Ancient Poeblans, otherwise known as the Anasazi people.

This instrument, being the earliest known Native American inspired Flute, was played by blowing across a small, flattened notch at the end of the flute body that was open at both ends. The chin was utilized to close the notched end when played, using different mouth and lips formations to achieve various notes, octaves and harmonics.

The flutes found in the cave, now known as the Broken Flute Cave, where created from Box Elder and were decorated with Yucca fibres woven into a chord, bird's skin and feathers.

Although the Anasazi flute is a difficult instrument to play various techniques can be mastered with reasonable practice and once mastered it is probably the most versatile and provoking instrument of its kind.
Hey Vance and Marby- my flute arrived today- safe and sound; and above all- BEAUTIFUL!!!!  I can see now that the Anasazi does not give up it's wonderful songs easily; but I am getting notes out of it, (in fact- the entire scale), but I can also see that I am going to have to spend some serious time with this baby to make it my own!  That's what I wanted anyway.....  Thank you for your exquisite workmanship!  The Claro Walnut was a great choice!!!  Also- the sheet of getting started is very helpful!!!   Marby, you were great with customer service and Vance- keep up the outstanding workmanship!! 

Am I understanding that the softer the blow, the fuller the sound?  Seems that way.   Once again, many thanks for a job well done!!   We will be doing more in the future!

Wes Bayers
Hello, Vance,

I didn't get a chance to say a proper goodbye over in Oakhurst, but I had the chance to play one of your Anasazi flutes (the turquoise model) and found it to be very playable with a lovely tone. It had a nice mouthpiece that was quite comfortable. I admire your craftsmanship and want to thank you for the courtesy that you've shown me at the festivals. My best wishes to you for great sales.

Mark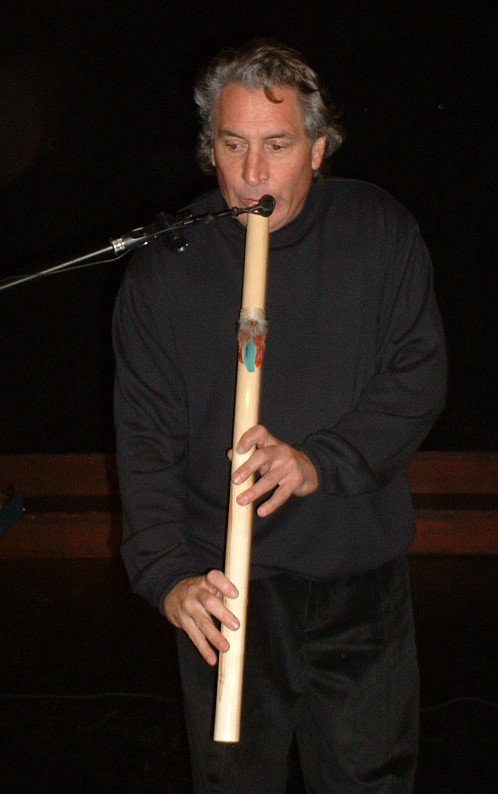 In the hands of a renowned World Flutes player (Gary Stroutsos) the Anasazi flute can be played utilizing its three plus octave capability. The flute shown here was created from box elder by Vance Pennington and is being played during Gary's performance at the 2007 Stormy Weather venue held in Oregon.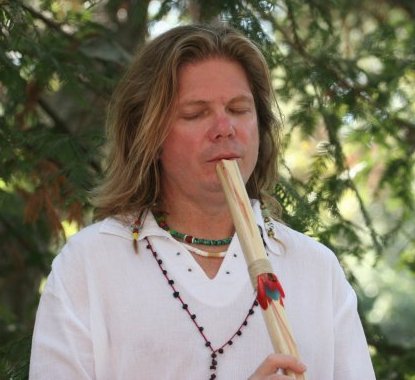 Vince Chafin, A wonderful flute player, musician and recording artist and one of the nicest people in the world of the Native American inspired Flute.
Flute maker Vance Pennington with renowned world flute player Gary Stroutsos putting two Anasazi flutes through their paces before Gary's performance at the Stormy Weather Concert at Cannon Beach, Oregon on a wet and chilly day in October, 2007.