Welcome to the World of Waking Spirit Flutes
by Vance Pennington
To our loyal customers, colleges and friends.

It is time to dream again!

Most of you may not know I suffer from severe Rheumatoid Arthritis and Dupuytren's contracture, which causes extreme pain in my hands and other joints. I have been told by my doctor to cut back on the extreme stress that is created by making some of my instruments. .

As a result, after years of creating flutes, other musical instruments and accessories, my wife (Marby) and I have made the decision to partially close Waking Spirit and World flutes. We are going to further pursue our dreams and visions. This means we will no longer be taking orders from our web site. These new 'dream' creations will be made available in the flute shop window.

We would like to thank you all for your love, support and kind words that we have received so often and generously over the years.

May grandfather grant you all the joy and happiness you deserve.

Continuing our journey!

Vance and Marby.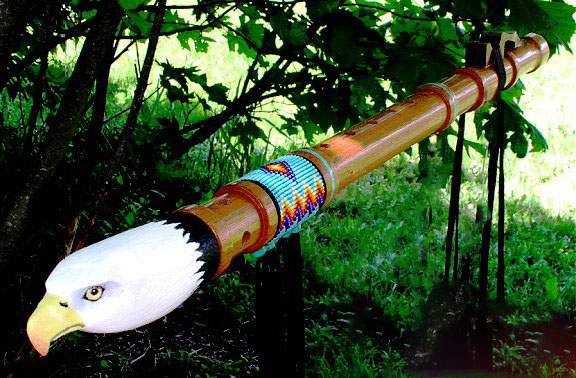 | | |
| --- | --- |
| O'siyo, a very warm welcome to you! I hope you enjoy visiting this web site which is dedicated to bringing you fine quality hand made North American flutes. The instruments shown within the pages of this web site are commonly known as 'Native American (Style) Flutes'. I have also made available some useful information about tuning, along with fingering charts and articles on how a flute works and the roll Mother Nature plays, which makes creating a flute a very precise and knowledgeable art form. | |
About the Maker of Waking Spirit Flutes:
Following the guidance of Mother Nature and inspired by the mountains, music, and the beauty of the Great Pacific Northwest, Vance Pennington (of Cherokee and English blood) has devoted his life to the creation, preservation, promotion and playing of fine, quality instruments.

From his home and 'Burning Tree Flute Studio' in the foothills of the Oregon Coast Range, USA, Vance proudly, yet humbly, presents a range of beautifully hand crafted flutes which are inspired by his passion for perfection.

Utilizing his years of flute making knowledge which has been gained since the commencement of his flute making journey back in the early 1970s, Vance has been dedicated to producing flutes of museum quality that are easy to play by everyone. One of the features of his flutes is the 'BREATH OF LIFE' airway system which he perfected to enable flute players to just breathe into the flute to make them play.

The hauntingly beautiful sound quality of his instruments along with their accurate professional tuning and easy playability rank them as being amongst the finest flutes available today. As an Internationally acknowledged American and World Flute Maker, his creations have found homes in the Americas, Europe, the Far East, and across the Globe.