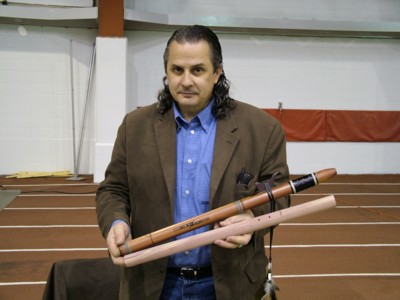 Professor Jim Akins
Professor turns craft into class


By Gregory L. Jones

Published: Tuesday, March 2, 2004 (in the Ohio State University online newspaper 'onCampus')

An Ohio State music professor's passion for American Indian music has turned into a new course offering beginning spring quarter.

James Akins, an associate professor of tuba and euphonium, developed an interest in the American Indian flute and began making them about a year ago.

"The very first one I built turned out very well, and I played it with the Columbus Symphony Orchestra," Akins said.

Akins developed an interest in American Indian culture as a result of his interest in archery and woodworking.

"I started out building some very primitive bows," Akins said. "I used tools that were available two to four hundred years ago."

Akins already had a commercially-built flute and decided to try his hand at crafting one himself.

He began studying various tribes, the flutes they used and the history of the instruments. Through his research he discovered many melodies that have yet to be transcribed.

"I thought it would be fun, with all the research I've done on them, to start a class," Akins said. "It's not a book type class where everybody reads about them - it's a class where everybody builds their own instrument and learns to play."

Akins said students will have to buy a $25-30 flute kit from one of the manufacturers he has found.

"For a fairly low cost they can build an instrument that would be valued somewhere in the $300-400 range if completed well," Akins said.

The course will also teach the related history of the instrument and how to play them.

"Whether they have woodworking skills or none, or whether they have musical skills or none - we have a kit for them and a way to teach them to play," Akins said.

Vance Pennington of Waking Spirit Flutes has been making the flutes since 1996 and is one of the suppliers of the kits to be used for the class.

"Flute kits are not something I usually create but was happy to do so for such a worthy cause," he said.

Akins also consulted American Indian groups on campus.

"It's quite unique for him to offer this class," said Joe Connolly chair of student-run OSU American Indian Council. "We don't have too many classes on campus and getting the music department in is a pretty big step."

Akins plans to offer the course, listed as Music 694A, for autumn and winter quarters as well.

Akins discussed his plans with Joe Connolly, a senior in aeronautical and astronautical engineering and the chair of student-run OSU American Indian Council, before taking the steps to make the course official.