Welcome to the World of Waking Spirit Flutes
by Vance Pennington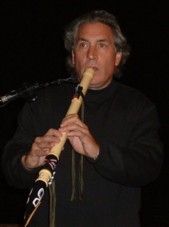 International flute recording artist, composer, 
and cultural story teller. Gary Stroutsos
A brief bio:
Gary Stroutsos was drawn to the plains of the Dakotas, canyon lands of Arizona, and mountains of Montana, where Lakota, Mandan-Hidatsa, and Salish Kootenai elders asked him to set their songs to his flute. Stroutsos performs world flute music drawn from many cultures. Evoking a spirit of place, and the voice of the land, his work encompasses over twenty recordings including a number made on location at sacred sites, from the red rocks of the Southwest, to the coast of the Pacific Northwest, and many points in between, which expresses a passion for sound, traveling and music without borders.
Although Stroutsos is of Greek and Italian heritage, he is acknowledged to have made a distinctive and significant contribution to the preservation of American Indian music and culture. He has played with some of the finest American Indian artists working today. A work, which expresses the enduring legacy of the American Indian flute and its recent revitalization into today's society.
Stroutsos is currently presenting his work in a series of concerts and talks designed for educational, cultural and historical institutions as well as performing arts centers.
His music was showcased in the Ken Burns PBS documentary "Lewis and Clark: Journey of the Corps of Discovery" which led to a command performance at the White House for President Bill Clinton. Songs and stories from this experience will be part of his presentation. He is also showcased on Jan Nickman's "Living Temples," an intimate study of man's relationship to nature, due to be released this spring.
Stroutsos's early influences included straight ahead jazz and high energy Afro-Cuban music where he learned from masters, James Newton and Danilo Lozano. However, Stroutsos has perhaps become best known for his haunting work on the Native American flute.
Stroutsos has also added the Xiao and Dizi, Chinese bamboo flutes, to his arsenal and placed his unique style of meditative music upon them. One virtuoso of the classical Xiao claimed that Stroutsos had taken the instrument to new heights beyond the imagination.
In a recent interview about his work, Stroutsos comments: "I have had a unique career of recording flute music inspired by travels and really awesome masters. My passion is to share with listeners the cultural legacies that my teachers have shared with me. We brought to life traditional love songs learned from American Indians, and recorded these flute songs live inside Canyon de Chelly, the spiritual ancestral lands of the Navajo. I continue to discover more of the wealth of flute traditions, these time-honored traditions which span many generations: this history is the real mystery of the flute, both haunting and enduring. Bringing music to life for new listeners is part of the vision of my own work, because music touches the soul, making it our true universal means of communication."
Make sure you check out Gary's web site to see if he will be in your area! www.garystroutsos.com