John Vames
Understanding the Gift


'Develop Confidence and Creativity in Your Playing!'
This is an interactive guide for learning to play your 6 Hole Flute.
It includes Instructional Text, CD and 25 Songs.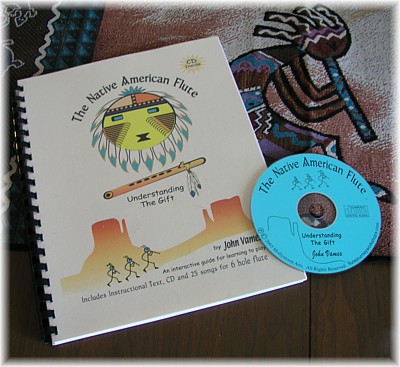 'In the summer of 1995 while vacationing in Santa Fe, he (John Vames) first became acquainted with the sound of the Native American inspired Flute. As an educator, he realized how easy it was for almost anyone to play. Unlike piano or guitar that take years of study, this instrument could be mastered in a short time. What has followed since is his initiation of Native American inspired Flute classes at Scottsdale Community College in Scottsdale, Arizona, including a one seminar course for credit.'
Table of Contents:

Introduction; How to use this book.

Part 1 - Instruction.
Lesson 1 - Finger Control, Breath Control, Knowing Your Flute, Embouchure, Basic Notes, Tonguing & Slurring.

Lesson 2 - The Native American Scale, Creating Your Own Melodies, Lakota Courting Song.

Lesson 3 - Ornaments Part 1 & Duration Part 1.

Lesson 4 - Ornaments Part 2, Zuni Sunrise, Duration Part 2.

Lesson 5 - Reading Music.

Lesson 6 - The Major Scale.

Part 2 - Songs.
Lakota Courting Song,
Zuni Sunrise,
Kiowa Love Song,
Sioux Chant,
Medicine Song,
Lonesome Flute Song,
Prayer (Original),
Koko's Lament (Original),
Child's Play (Original),
Merrily We Roll Along,
Love Somebody,
Lightly Row,
Go Tell Aunt Rhody,
Cockles & Muscles,
Twinkle Twinkle LIttle Star,
Blow The Man Down,
Oh How Lovely is the Evening,
Oh Susanna,
Ode to Joy (Beethoven),
Abide With Me,
Happy Birthday,
Here Comes the Bride,
Amazing Grace,
Goin' Home (Dvorak),
Blue Flute (Original).

Appendices which include:

Useful Scales for Native American inspired Flute.

Analysis of the Major Scale.

Rhythmic Values.

Care of your Flute.

Glossary of Terms,

Author's Closing Note,

About the Author,

About the Cover,

Resources,

Index.
This is a truly informative, instructional work made simple by its 'easy to follow' text, illustrations and sound file examples on the accompanying CD. This publication is the best on the market and is a must for anyone who wishes to learn how to play their 6 hole flute. Begin your flute playing journey with confidence! (Waking Spirit)